Edwards was located in the northeastern corner of Cochran County, west of the Yellow House Ranch, and was the location of the first known store in Cochran County. It is unknown when the store was founded, but its existance was first reported in 1892 by Vance Greer, a rancher from New Mexico.

The store was established by the father of Plainview Judge Solon Clemens, who obtained supplies for the store from Amarillo. The store was also used as an unofficial post office for the collection and distrubtion of mail of area residents.

The store was later owned by Edward P. Kirkland and on May 3, 1905, a post office was officially established there and Kirkland named postmaster.

The post office was named Edwards after the owner and a phone line was ran to the store from Littlefield. The Edwards Post Office served a vast area, including parts of New Mexico.

Carrie Hewitt was named postmistress in March 1913 after Kirkland resigned.

The Edwards Post Office was discontinued on May 15, 1913.
Sources: Texas' Last Frontier: A New History of Cochran County by Elvis E. Fleming and David J. Murrah; The Houston Post, Houston, Texas March 13, 1913;
Texas State Historical Association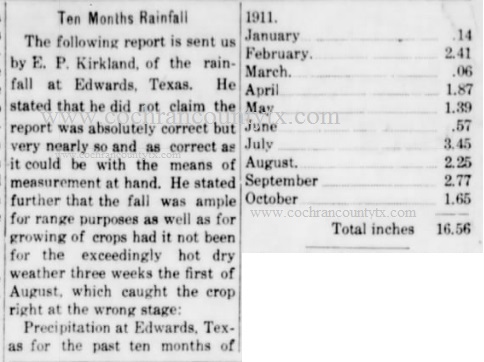 Newspaper clipping from Lubbock Morning Avalanche, November 9, 1911. Clipping courtesy Texas' Last Frontier Historical Museum